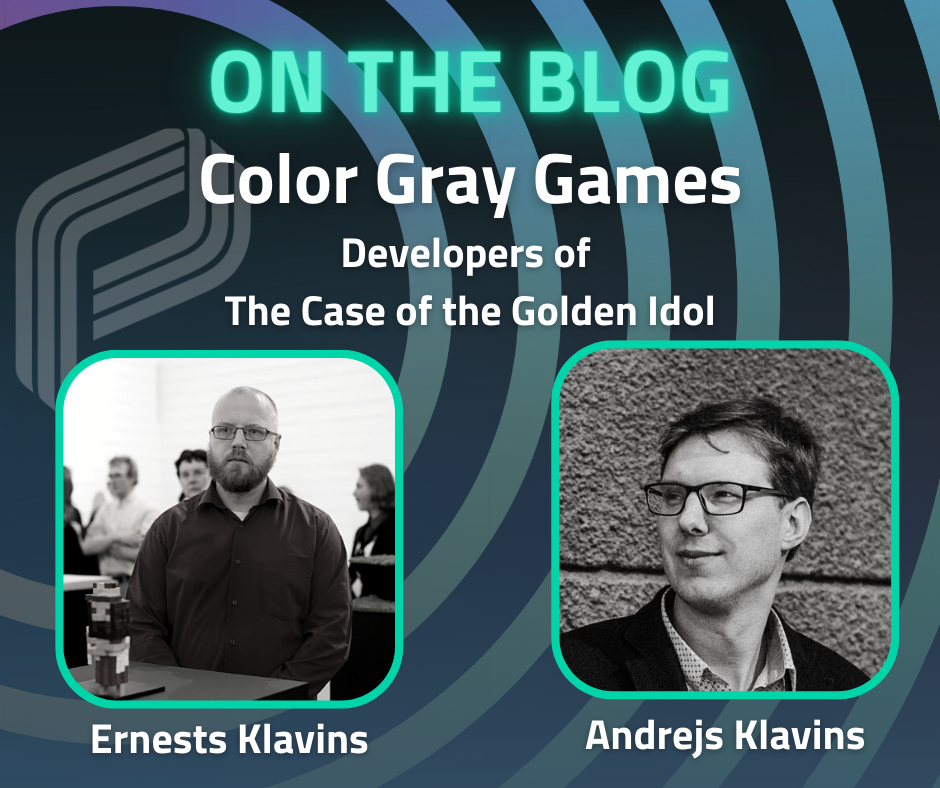 Today, we are joined by Andrejs and Ernests Klavins, the two-man team behind the award winning game, The Case of the Golden Idol. The team will be discussing their processes, how they created the game and how they teamed up with Playstack. 
If you would like to read our previous interview with Color Gray, you can find it here.
Could you tell us a bit about Color Gray and how you got started?
"Although we both have experience working in games,The Case of the Golden Idol was our first true collaboration, the first time we worked on something of scale together. We've supported each other on the various projects but this is our first true collaboration.
"Around ten years ago, I (Andrejs) started a mobile games company that lasted for a good while before we decided to close it. After that, I chose to take a bit of a break from the industry and went on to other things. I wouldn't even class myself as a developer, but rather a hobby coder with a huge love of games. I learned this engine while making the game!"
Ernests added: "I have been involved in games for a while! Mainly as a hobby – creating flash games and graphics for various projects. My experience in the industry hasn't been too intense, but I have been involved in it for quite a while. Mainly, I have been working across many other artistic disciplines such as sculpting, painting and illustration. Golden Idol was my first true foray into the world of creating a game."
How long have you been working on The Case of the Golden Idol?
"Early prototyping and exploring ideas began in January 2021, but full development started at the end of April that year, so it's been a very quick turnaround."
What were some of the challenges when developing?
"The main challenge you face when making a puzzle game is that, as the developer, you can't play it because you know the solutions to all the puzzles! This meant we had to rely heavily on external testers, and honestly, I think  that was great. It's so important to test your game frequently with players and to getfeedback from fresh eyes.
"Another challenge was making sure all of the puzzles in the game obeyed real-life logic so that it was grounded in the world we created. We didn't want anything to feel unnatural or unrealistic."
What was it like developing the game as brothers?
"Our joint dedication to the end goal really worked in our favour. We both wanted to achieve the same end product at the end of the day, with the same direction.
"There were times when we slightly differed in our ideas, but as it was just us two creating the game – rather than a big team – it was easy to bounce ideas off of each other to reach an agreed conclusion."
Have you worked with many publishers in the past?
"Only book publishers!" Ernests said.
"We met Playstack when a scout came to a small games conference in Latvia that we were attending, and it just went from there! After that, we were put in contact with the Discovery Team, then, everything began to move along smoothly."
What did Playstack support you with?
"One of our biggest fears when making the game was that we would produce something really great……. and no one would know about it. That fear was taken away when we signed with Playstack as they worked tirelessly on the marketing campaign to ensure we had a highly anticipated game, ahead of its release.
"We tried manual outreach ourselves, but it was very time and labour-intensive and detracted from the time spent developing the game itself, so having Playstack's expertise was great. 
"We feel so lucky to work with a team that really cared about the project. They would help us throughout the entire development process; getting advice on cutscenes, dialogue and just general tips, was beneficial for the game. It became a collaborative experience that was built on trust and mutual respect."
The Case of the Golden Idol was released on the 13th of October 2022.
You can pick up your copy of the game on Steam today!