It is a pleasure to welcome back the brilliantly talented Daniel Stubbington. In our previous blog with Daniel, we discussed the inception of The Entropy Centre and how the solo-developer brought the game to life in his evenings and weekends, you can read that blog here. 
Today, we will be talking to Daniel about his time working with Playstack, the role of the game's publisher, and his previous experience working in the industry.
Question: How did you begin working with Playstack?
"It was around the end of 2020. I set up a Steam page for The Entropy Centre along with a short, self-made trailer. After that, Naman* got in touch with me and we got the ball rolling from there! 
         *Naman Budhwar is Playstack's Senior Discovery and Marketing Manager. You can read our interview with Naman here.
We exchanged a few emails and had an intro call. From the very beginning, it was clear that Playstack were really interested in the game. My main goal at this point in development was to create a vertical slice of the game that I could share with potential publishing partners, so when this was completed I sent it across to them. One of the main things that drew me to Playstack was the interest they showed in The Entropy Centre before the vertical slice was completed, which is a testament to the Discovery team. "
Question: Why did you decide to work with a publisher?
"I wanted to find someone that could help me realise my vision for The Entropy Centre. To trust in what I was building and understand what I was trying to achieve with the game. I knew this game was special to me, so I wanted to partner with a publisher that understood this. 
As I said, this was clear from the initial conversations I had with Naman and the team. I got the impression that this support would be there, and I would be free to really get my head down and only focus on creating the game itself. In creating a puzzle game, I also wanted to find a team to playtest the game, bounce ideas off and get real, genuine feedback.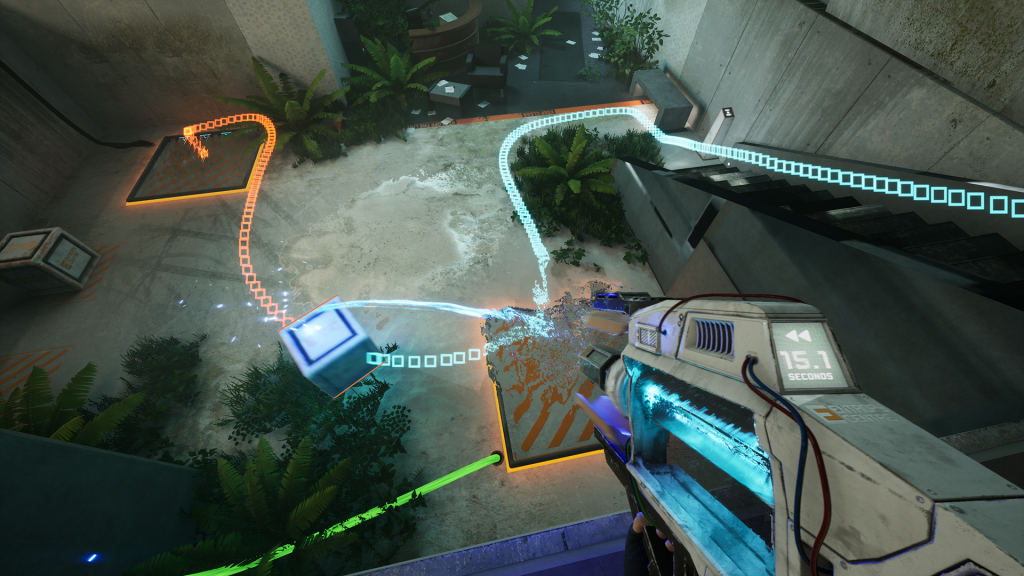 As well as this there are thousands of indie games being released every year across Steam. A huge number of these are brilliant, innovative and fun projects that deserve to be played – yet it's unlikely that the majority of them will even be seen. The competition for players' attention is so fierce, so I knew pre-release marketing would be so key to The Entropy Centre's success and this simply wouldn't have been possible if I had gone down the self-publishing route."
Questions: Did you have any reservations about working with a publisher?
"Of course! I was working on this game totally solo, so inviting more people to work on it made me a tad wary – I think that's only natural. My previous job was in games marketing, creating trailers at Trailer Farm where I worked closely with both developers and publishers on their projects, so I understand the challenges these relationships face. My mind was completely put at ease when I met the video team and saw the first trailer Playstack made, it was at that exact point I knew they completely understood my game.
At the end of the day, there is only so much a solo developer can do, so partnering with a publisher was integral in bringing the game I envisioned to life, it didn't take long at all for my reservations to disappear. When it became clear that the game was in safe hands, I was more than happy to hand over factors such as marketing to a dedicated, passionate and experienced team who genuinely knew what they were doing."
Question: How was working with Playstack?
"It was great! I think one of the main takeaways I had from working with Playstack was the support they offered me – not just in traditional areas a publisher would, but being hands on with the game itself. I feel like my creative vision of the game was never compromised in working with the team, and in fact, it allowed me to realise it even more. If I didn't have Playstack, there would be certain things I simply would not be able to include within the game itself, such as getting incredible voice actors and a fantastic composer. It's these things that take The Entropy Centre to the next level!"
The Entropy Centre is now available to buy on Playstation 5, Playstation 4, Xbox Series X|S, Xbox One and PC.