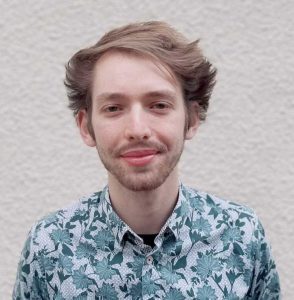 On today's blog we're joined by Patrick Johnson from our Game Discovery team, to talk about what goes on behind the scenes when discovering new titles!
Tell us about yourself – what's your background?  
I've been working as a Game Discovery Scout here at Playstack for almost a year now, but before that I spent about 18 months freelancing! I had my own website where I covered industry events and interviewed indie devs, and I got a lot of experience in talking to developers and building rapport with them, which is a really crucial skill in my current role. 
And what does your job actually entail? Just what is a 'game discovery scout'? 
As a baseline, my job is to reach out to developers creating interesting projects and games, and find out if they're interested in partnering with a publisher. I also assess incoming pitches to see if we're the right fit for a project; whether we can bring what the developer needs to the table. Once we've signed developers, I'm a point of contact in the team for them, and I get to playtest as well. Playing the games, both before reaching out and after they're signed, is important!
I mainly meet with developers online since they're from all over the world, but I love going to events and representing Playstack there. It gives me a chance to meet with developers face-to-face, which I really enjoy.
What does a day in the life look like for you?
I start my day by scouring the internet for 'daily games' – new uploads to distribution platforms, and what's being talked about on social media and fundraising sites. It's a really nice way to start the day, since there's always fresh and interesting titles. There's a lot of faith put into the discovery team. If we see something which looks promising, we can reach out to the developers immediately. 
Although we like to see what's popular and what the public has already expressed interest in, it's important to see if something has slipped through the cracks. The public doesn't always know what they want, and sometimes a game just needs the right publisher to help fulfill its marketable potential. 
Once a few of us have tried and liked a game, and we've spoken to the dev, we all come together and consider more practical aspects – potential release windows, funding, milestones, and whether the game is a good fit for Playstack, and if Playstack is a good fit for the game. 
Later on in the day, I usually have a couple of developer meetings for projects I've reached out to before, and this makes up the majority of my day. I also conduct financial analysis for projects we're close to signing, which involves a lot of maths. Finally, for games that we've already signed; I get to playtest, put together research for case studies, and so forth. I'm involved with devs even after they've been signed, which really makes me feel like I'm part of their project from beginning to end! 
What are some of the challenges you face as a game scout?
One of the biggest challenges is timescale – having the confidence to sign a project. When you sign a developer, the title won't be out for another year. You won't be able to tell whether it's a success for another half year after that, so having confidence and faith in the project is vital. That confidence runs the risk of wavering, even if it's a slam dunk you know is going to do incredibly well! Thankfully that's where the team comes in to back you up, and why we do so much analysis to make sure we're as certain as can be. 
There's also a lot of competition amongst publishers, and if a game is popular lots of publishers are going to be talking to the dev! But being friendly and transparent with devs is key. I think developers we've worked with before have really valued how Playstack deals with marketing and how upfront we are with them and our plans, so that mitigates a lot of potential issues. 
Finally: what do you look for in a game?
There's a push and pull between personal interest and marketability. Will the product have quality, appeal, and a unique hook? 
The moment you realise the game is going to be a success comes later down the line, to be honest! There have been times where we've really liked a game, but we weren't fully certain on who the audience would be. Suddenly before we knew it, it had over 600 Steam followers! The earlier you get in before that confirmation of interest from the general public, the more devs feel seen and trusted, which takes me back full circle to the most important part of my job: supporting and building rapport with the creatives behind the games we publish.